Self-assembly
90% of our customers collect greenhouses themselves. The greenhouse comes with detailed instructions and includes everything you need to assemble the frame and mount the polycarbonate. You can evaluate your strength by first watching the detailed video instructions for assembling your or a similar greenhouse. To install a greenhouse, you can also attract your neighbors or friends.
Installation by our company's specialists.
The average time for assembling a greenhouse by our specialists is from 2 hours, depending on the model of the greenhouse. Please note that the installation of the greenhouse is made by appointment.
How do I order an installation?
Apply for the installation of a greenhouse in our office or by phone. You will be assigned a preliminary installation time.
- Why is the time tentative?
The installation is affected by several factors, including weather conditions (installation in windy weather is prohibited) and human factors. The day before the planned date, the manager of our company will call you back and confirm the installation time. At the agreed time, our installers will come to your site and install the greenhouse. During the installation of the greenhouse, it will not be superfluous to monitor the compliance of their actions with the assembly and operation instructions. After the installation is completed, you need to check the quality of the completed work and sign the acceptance certificate if there are no comments.
Our suggestions:
Leveled plot for installing a greenhouse. It is advisable to install any greenhouse on the foundation. As a foundation, it is better to use a reinforced set of piles,a 150x100, 100x100 bar or a steel foundation. The foundation is selected depending on the model of the greenhouse (check with sales offices and by phone).
Video Instructions
Video-instructie voor het samenstellen van de kas «RUBY PRO»
Video-instructie voor het samenstellen van de kas «DROP 2»
Video-instructie voor het samenstellen van de kas «DROP»
Video-instructie voor het samenstellen van de kas «RUBY LUX 3m»
Video-instructie voor het samenstellen van de kas «TUDOR 2.5m»
Video-instructie voor het installeren van WPC -bedden
Video-instructie voor het samenstellen van de kas «OSNOVA»
Video-instructie voor het installeren van een kas op een stapel foundation
Video-instructie voor het installeren van automatische ventilatieopeningen
Video-instructie voor het samenstellen van de kas «PRO 2.5m»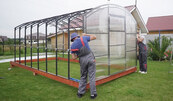 Video-instructie voor het samenstellen van de kas «RUBY PRO»
Het samenstellen van de kas «RUBY PRO»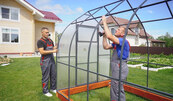 Video-instructie voor het samenstellen van de kas «DROP 2»
Het samenstellen van de kas «DROP 2»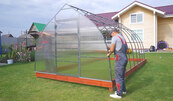 Video-instructie voor het samenstellen van de kas «DROP»
Het samenstellen van de kas «DROP»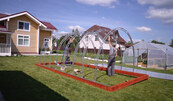 Video-instructie voor het samenstellen van de kas «RUBY LUX 3m»
Montage van de kas «RUBY LUX 3m»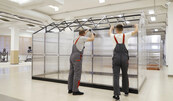 Video-instructie voor het samenstellen van de kas «TUDOR 2.5m»
Het samenstellen van de kas «TUDOR 2.5m»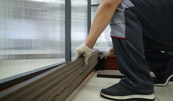 Video-instructie voor het installeren van WPC -bedden
Installatie van bedden gemaakt van WPC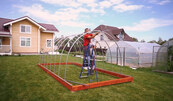 Video-instructie voor het samenstellen van de kas «OSNOVA»
Het samenstellen van de kas «OSNOVA»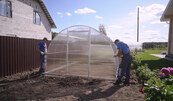 Video-instructie voor het installeren van een kas op een stapel foundation
Een kas installeren op een stapel foundation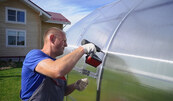 Video-instructie voor het installeren van automatische ventilatieopeningen
Een venster installeren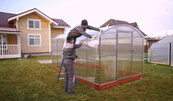 Video-instructie voor het samenstellen van de kas «PRO 2.5m»
Het samenstellen van de kas «PRO 2.5m»
Feedback from our customers
Opening hours:
mo-fr: 09:00 - 17:00
sa: 10:00 - 15:00