Own delivery service
The geography of delivery covers all areas of our presence (Moscow, Leningrad, Arkhangelsk, Vologda, Yaroslavl, etc.) and is carried out in each locality.
We deliver greenhouses by our own vehicles and vehicles of our partners. All vehicles are specially equipped for transporting greenhouses, which guarantees the safety of the frame and polycarbonate. You do not need to worry about transportation in advance - we will do it for you! Gazelle vehicles are used to transport the greenhouse. You can coordinate the delivery time with our manager by phone and in the sales office.
Pickup from the company's warehouse
You can pick up the goods yourself from the nearest warehouse of our company. Check the addresses of warehouses by phone, in sales offices and on the page «Contacts».
Delivery to any point of Russia through a transport company is possible.
Video Instructions
Οδηγίες βίντεο για τη συναρμολόγηση του θερμοκηπίου «RUBY RPO»
Οδηγίες βίντεο για τη συναρμολόγηση του θερμοκηπίου «DROP 2»
Οδηγίες βίντεο για τη συναρμολόγηση του θερμοκηπίου «DROP»
Οδηγίες βίντεο για τη συναρμολόγηση του θερμοκηπίου «RUBY LUX 3m»
Οδηγίες βίντεο για τη συναρμολόγηση του θερμοκηπίου «TUDOR 2.5m»
Οδηγίες βίντεο για την τοποθέτηση κρεβατιών από το WPC
Οδηγίες βίντεο για τη συναρμολόγηση του θερμοκηπίου «OSNOVA»
Οδηγίες βίντεο για την εγκατάσταση θερμοκηπίου σε θεμέλιο πασσάλων
Οδηγίες βίντεο για την εγκατάσταση ενός αυτόματου παραθύρου
Οδηγίες βίντεο για τη συναρμολόγηση του θερμοκηπίου «PRO 2.5m»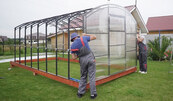 Οδηγίες βίντεο για τη συναρμολόγηση του θερμοκηπίου «RUBY RPO»
Συναρμολόγηση του θερμοκηπίου «RUBY RPO»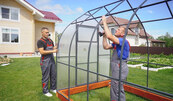 Οδηγίες βίντεο για τη συναρμολόγηση του θερμοκηπίου «DROP 2»
Συναρμολόγηση του θερμοκηπίου «DROP 2»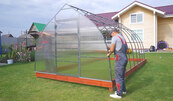 Οδηγίες βίντεο για τη συναρμολόγηση του θερμοκηπίου «DROP»
Συναρμολόγηση του θερμοκηπίου «DROP»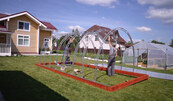 Οδηγίες βίντεο για τη συναρμολόγηση του θερμοκηπίου «RUBY LUX 3m»
Συναρμολόγηση του θερμοκηπίου «RUBY LUX 3m»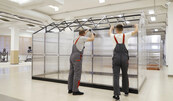 Οδηγίες βίντεο για τη συναρμολόγηση του θερμοκηπίου «TUDOR 2.5m»
Συναρμολόγηση του θερμοκηπίου «TUDOR 2.5m»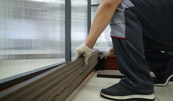 Οδηγίες βίντεο για την τοποθέτηση κρεβατιών από το WPC
Τοποθέτηση κρεβατιών από το WPC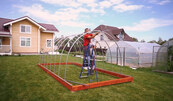 Οδηγίες βίντεο για τη συναρμολόγηση του θερμοκηπίου «OSNOVA»
Συναρμολόγηση του θερμοκηπίου «OSNOVA»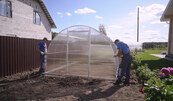 Οδηγίες βίντεο για την εγκατάσταση θερμοκηπίου σε θεμέλιο πασσάλων
Εγκατάσταση θερμοκηπίου σε θεμέλιο πασσάλων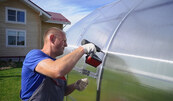 Οδηγίες βίντεο για την εγκατάσταση ενός αυτόματου παραθύρου
Εγκατάσταση εξαερισμού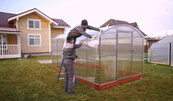 Οδηγίες βίντεο για τη συναρμολόγηση του θερμοκηπίου «PRO 2.5m»
Συναρμολόγηση του θερμοκηπίου «PRO 2.5m»
Feedback from our customers
Opening hours:
mo-fr: 09:00 - 17:00
sa: 10:00 - 15:00